Interior Garage Painting, Canton
Painting So Beautiful You Will Want to Show it Off!
Many homeowners find that their garages are in need of a fresh coat of paint. An exterior coat of paint on your garage can refresh the look of your entire home, while interior painting can enhance the look and feel of the space. But where do you begin? Remodelling your home can be very overwhelming with so many options for your new designs and for the contractors you could hire. ProServ Painters are quality painter contractors in Canton that specialize in both interior and exterior painting services. We are a painting company that can cover you from interior painting such as walls and ceilings in your living room to exterior painting, including on vinyl siding, wood siding, brick, porches and various types of wood and even more painting services. Not to mention our other services such as drywall repair, door installation and door repair, and now, garage painting services. ProServ Painters' contractors are at your service to satisfy your painting needs, home remodelling, commercial painting, and ultimately, to help make your home renovation dreams come true in Canton.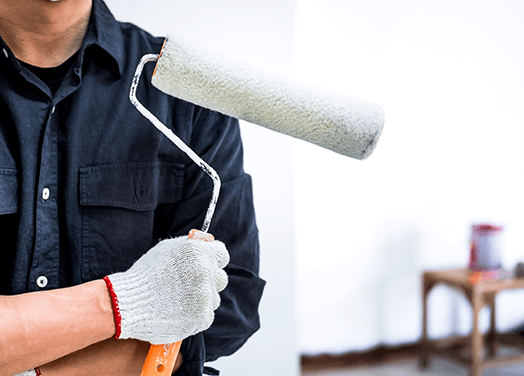 Can You Use Interior Paint Inside a Garage?
Yes! We would highly recommend using interior latex paint as long as the wet paint isn't exposed to freezing temperatures. While it might be freezing in your garage, it isn't exposed to rain, snow, or sunlight, so the interior variety will do just fine.
Using exterior paint in an interior space can be toxic. These paints often contain anti-mildew additives that produce harmful fumes which can cause respiratory problems. These products are meant to be used outside in the open air, not in an enclosed space.
What Kind Of Paint Is Good For Garage Walls?
The paint products our painters in Canton highly recommend are:
A flat finish is a poor choice for garage walls because the finish is too dull and doesn't clean well. Rubbing dirt marks will just make the problem worse. The best finishes to use are matte, satin, eggshell, or semi-gloss. Satin will provide a very smooth surface that is easily cleaned without being extremely shining like semi-gloss.
Should You Paint The Inside of Your Garage?
It's completely up to you! If you decided to get your interior garage painted, it's a great way to personalize it and not just your home. You can even paint unfinished walls if your garage isn't drywalled. Regardless if it's drywalled or not, it's important to prime the walls first in order to get a fully opaque application. You can even just start small, like painting your garage door for a surprisingly massive transformation.
How much does it cost to paint? It's completely based on your dream outcome. Contact us for a free estimate!
ProServ Painters is a family-owned painting business that is located in Canton, servicing the Canton area and surrounding areas. We can give you a free estimate at a time that suits your schedule best. We are so confident in our work that each project has a two-year warranty! We are fully dedicated to making sure you're more than satisfied with our services for years to come. From helping you choose the right color for your space, to providing you with consistent updates through the project, we are always here every step of the way. We get the job done right the first time around.
What Sets ProServ Painters Apart?
First, we provide long-lasting results. We focus on exceptional customer service and exceptional materials. It's impossible to put into words the importance of high-quality materials, so we emphasize this through our thorough craftsmanship and proven results. Why pay for a service you'll have to redo instead of hiring our team to deliver high-end results the first time around?
Second, we employ skilled industry painters. We choose our team carefully. We hold ourselves to high business standards and handle each project with the utmost integrity. Our Canton teams always work together to provide top services for residential and commercial property owners and are recognized for their local expertise, professionalism, reliability, and decency.
Thirdly, we are flexible and respectful. Do you have a tight schedule or deadline? While transforming your space is important to us, so is remaining respectful to your schedule. We're guests in your space and know having work done can sometimes be distracting so we work hard to be as discreet as possible. We get to work and clean up quickly and efficiently.
Our Seven Step Process Ensures That Each Project is as Smooth as Possible:
Our mission is four-fold: the first is that we treat every customer's home the same way we would treat our own home. Second, we lead every project with the customer's goal in mind. The third, deliver on long-lasting promises. And finally the fourth, we strive to maintain the highest level of professionalism as possible with not only our customers but with our partners, employees, and other associates as well.
Get In Contact With Our Local Canton Painting Team Today
Here at ProSev Painters, we are committed to producing top-quality painting and getting the job done in a timely manner. It's a stressful process for any home remodeling project. Our local painting company is committed to doing a great job every time because we are passionate about the quality of our services. Whether your house needs drywall repair, pressure washing, or a full house painting transformation (interior/exterior), we've got your back every step of the way.
We are a local, independent business in Canton with a passion for quality painting and excellent customer service for both commercial painting and residential painting. We take pride in our quality of work. If you're looking for contractors for your home improvement plan, we're the right company for you. Contact our painting team for a free estimate, or if you have any questions in general. As we've said before, our business is always here for you. We want to help make this job painting your home, garage, etc., as painless as possible with an outcome that you'll love for years to come.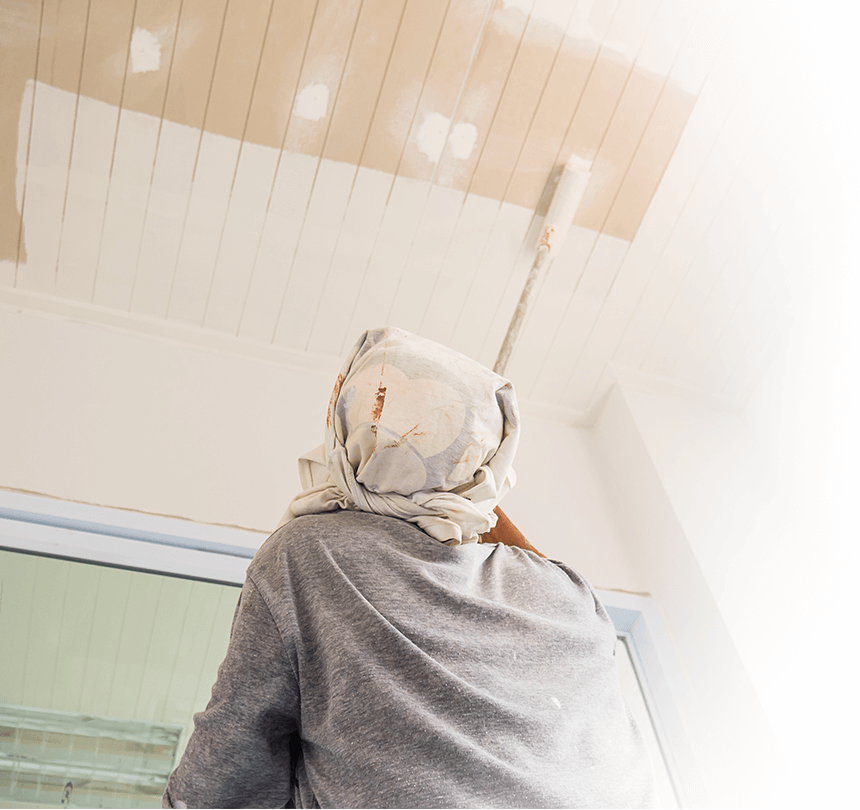 We've Got Every Inch Of Your Home Covered
Before we begin painting, we'll ensure everything is thoroughly protected with plastic sheeting and drop cloths. Next, we'll make any repairs necessary like patching holes from pictures, covering cracks or stains, etc., so the surface is nice and smooth for your fresh, new coat of paint. Now we can begin painting any of your ceilings, walls and trim. We'll inform you how long it should take to dry before we can paint another coat, but we always ensure each project is completed in a timely manner so you can enjoy your new space quicker. Once you've given us a thumbs up and are 100% satisfied with the results, we'll pack up our tools, plastic coverings, drip cloths, and clean every workspace efficiently. We respect your space and treat every home as though it were our own. Just remember, it may take a couple of coats to see the results you desire, therefore, we will need to visit your home a couple of days in a row, but this doesn't mean you need to leave your home while we're present. We'll work around you and remain well-mannered guests.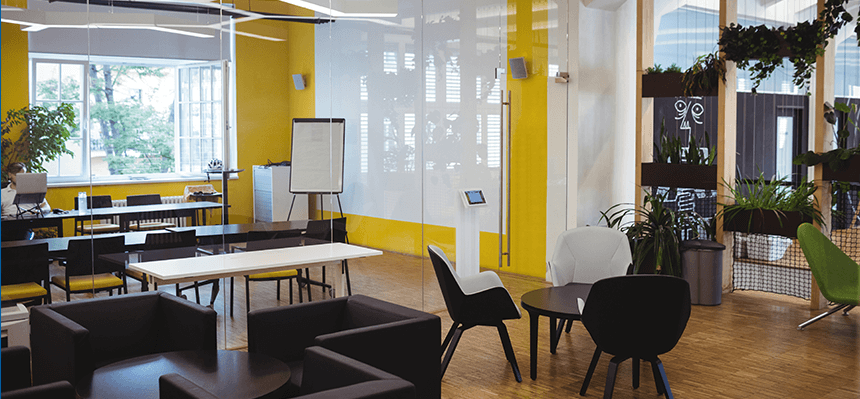 Office Colors Matter Too!
If you own a commercial space that you feel could use a bit of a facelift, we'll be there. Let's work together to choose a new color for your office that can help your employees feel more comfortable and energized while at their desks. From the ceiling to the walls and trim, we'll take care of every inch of your residential or commercial space.
Why You Should CHOOSE PROSERV PAINTERS
We tackle small or large-scale interior projects. We're a small team of highly-skilled painters who create individualized painting plans for every customer. From helping you navigate through an endless supply of paint samples to finishing the project with ease, there are many reasons why you should choose ProServ as your number-one painting choice in Southern Massachusetts, but here are the top five reasons:

ProTect Painters manages the entire project from beginning to end.

We come prepared with a detailed plan with no hidden costs.

Our painting services help you find the right color.

We're happy to work around your schedule.

We provide you with updates on progress.