Exterior House Painting Company
Experienced, Qualified & Reliable Exterior Service
Your home's exterior is what makes a good first impression. Curb appeal is important, not just when you're trying to sell, but also when you're trying to make your house a home. Painting projects speak volumes about you as a homeowner. You want to create new memories and show your friends, family, and neighbors that this is your place with your personality. So, if you're not happy with the exterior paint of your home, where do you start? How do you do a great job painting? Where do you find the time to change the color of the aluminum siding or the fence? That's where ProServ Painters comes in for painting jobs in Canton, Massachusetts
Exterior Painting Company
Before we dive into an exterior painting project, we want to get to know you as the client, and what you're hoping to achieve with our painting company. It's our way of letting you know that we truly care about your wants and needs and how we can add a personal touch to the exterior of your home. As a dedicated painting company, we take great care of your home just as we would our own and that will be obvious not only in our top quality workmanship but in our prep for quality work and level of professionalism portrayed through our team with both residential and custom commercial projects. Read more about our house painting services below to understand how we can help you improve the appearance of your home.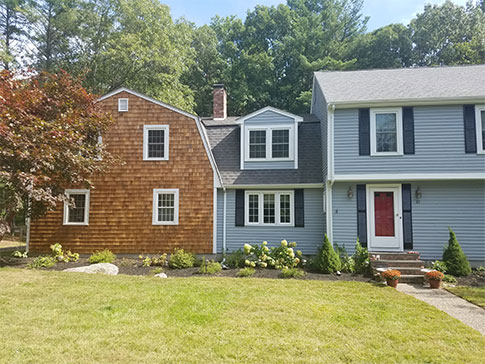 Exterior Painting Services Offered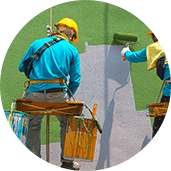 Painting
Experience excellence with ProServe's painting services. Our skilled professionals use top-quality materials to deliver flawless finishes for both residential and commercial spaces that bring new life and flair everyone will enjoy.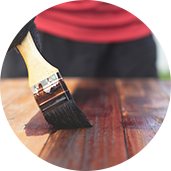 Staining
Our staining services rejuvenate the major exterior parts of your home. Whether you need to give your deck a facelift or you want to ensure your home's most beautiful pieces stand up to time and weather, we help you keep your home element-resistant and aesthetically appealing.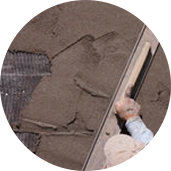 Stucco
Stucco painting and repair is a fundamental aspect of homeowner upkeep that's easy to let fall by the wayside. ProServ is here to help you eliminate bulges, cracks, and unsightly discoloration, which will make your home look new again.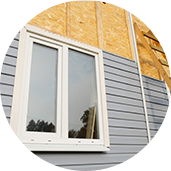 Vinyl Siding
Siding can begin to look worn or faded over time, and ProServ has the tools and experience to make your vinyl siding shine like new once more. Our services allow any homeowner to freshen up their home's exterior with new colors and finishes, and we provide exceptional materials with competitive pricing.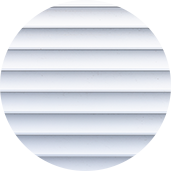 Aluminum Siding
Aluminum siding can begin to lose its luster with age, and ProServ has years of experience freshening up those spots that busy homeowners don't have the time to tackle. Our aluminum siding and painting services will make your home look like new.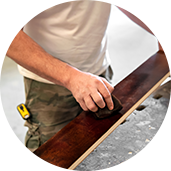 Carpentry
There's no reason to book separate services for one job—ProServ Painters has experience fixing minor wall repairs, allowing us to prep your exterior walls for a new coat of paint without you having to juggle multiple schedules and contractors.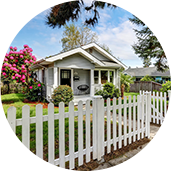 Decks + Fences
Even the most beautiful decks fade and weather over time, and your family deserves to spend summer evenings outside enjoying your property. ProServ provides painting and staining services that can make your deck last a lifetime, ensuring it weathers summer storms and winter squalls.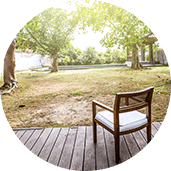 Patios
Your patio deserves to be as appealing as the rest of your home, which is why ProServ provides a number of services that can make your exterior space look like new again. From painting to staining, we also provide prep services to help you get the job done in a single go.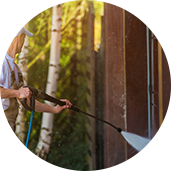 Pressure Washing
Don't worry about hiring multiple services or juggling additional contractors when ProServ can provide you with everything you need to get the finished product you deserve. Our pressure washing services allow us to prep your home's exterior for a brand new beautiful paint job.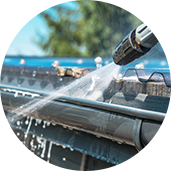 Gutter Cleaning
Whether you're worried about spring rains or autumnal leaves and detritus flooding your gutters, ProServ provides cleaning services that keep your home safe and beautiful. Let us take care of the pesky upkeep tasks that homeowners are too busy to fret over.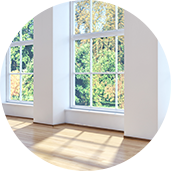 Window Puttying/ Glazing
If your windows are cracking or losing their ability to retain heat and energy, you might not need a full window replacement. Puttying and glazing are solutions for seasoned homes that don't require you to replace a costly window. Let us handle the repairs and maintenance to keep your home running efficiently.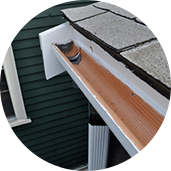 Wood Gutter Oiling
Custom wood gutters are beautiful but require specific maintenance to keep them working efficiently. We offer painting and oiling services that will protect your gutters from drying out in harsh summer climates or taking on too much water during the autumn and winter seasons. With proper care, your wood gutters can last for decades.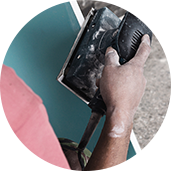 Preparation
Any painting job can be a daunting task for a busy homeowner, and paint jobs are oftentimes more complicated than applying a few coats. Let ProServ take care of you from start to finish, including all of the preparation services that are required to get the job done right.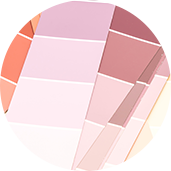 Color Consultation
Give ProServ a call today and we'll help you with a thorough color consultation so that you can find the perfect colors for your home. Painting is an investment, and it's important to us that you are 100% satisfied every step of the way. We can show you designer color schemes and help turn your vision into a reality!
How Much Does It Cost to Paint a House?
Painting a house can be expensive—the average cost to paint a house in 2023 ranges from around $1,000 for small interior projects and up to $12,000 to fully repaint the exterior. There are numerous factors that impact the cost of painting a house, of course: these factors range from location to materials to labor. There are a number of ways to personally finance the cost of painting a house, from putting money away in savings to getting a home improvement loan. Whatever you decide, nothing brightens up a home quite like a fresh coat of paint!
Depending on the size of your project, you might be taken aback by how costly a new paint job can be. There are many factors to consider, such as the average cost, the complexity of painting the interior, and the cost of painting yourself versus paying for labor, materials, and house size. While the average cost of painting a home is based on location, size, labor costs, and the intensity of the project, it is possible to get an average estimate.
The cost of interior painting projects can vary widely based on the home. HomeAdvisor says that the average painting project is within $950 to $2,900, but these costs are national averages and could be affected by many factors in your area. It might be possible to reduce the projected cost by painting a select number of rooms, using low-cost materials, or handling some of the painting yourself. However by using budget materials, you run the risk of having to paint again in the near future, and without the service of professionals, you might not see the results you desire.
Size is, of course, the most dramatic factor when it comes to the projected cost of an external paint job. The paint job for an average-sized home can cost between $5,200 for a 2,000-square-foot home to $12,000 for a 3,000-square-foot home. When planning the budget for any exterior paint job, you should plan on spending between $1 to $4 per square foot. There is also the factor of time—while it's a little bit easier to take your time painting the interior of your home, weather and other circumstances can affect your ability to work on the exterior. While an ambitious homeowner might be able to tackle the DIY project themselves, it's recommended to solicit help from a local painting company like ProServ.
Painting Your House Yourself or Hiring a Professional
Tackling a big paint job yourself can be a challenge, and there are several factors at play including the size of the area you plan to paint and the type of paint you use. DIY paint jobs can potentially save you money, but they come with their own share of challenges. You might not have the experience that a contractor has, and you run the risk of spending too long on the project, making a mistake, or risking an accident.
Paint is typically the most expensive part, but how do you know what paint to buy? Inexpensive paint might run $20/gallon, whereas high-quality paints can cost as much as $100/gallon. On average, professional rates range from $20 to $55 an hour depending on your area and the professionals you hire. Complex projects like exterior paint jobs can result in higher hourly rates, where teams charge more in order to conquer the job quickly and with aplomb. While it might be more expensive to hire professionals, they have experience with a variety of projects and will be able to deal with hidden project factors that you don't consider when going the DIY route.
What Factors Affect The Cost?
There are many factors that can affect the cost of painting a house, including:
Labor: This is the most expensive part of a professional painting project, and while you might be tempted to consider cutting costs here it's more than worthy expense to have a knowledgeable paint crew handle the project for you. A professional painter comes with skills and experience to deliver a seamless result with drips or splatters—plus the professionals handle prep, clean-up, and more.
Paint and Materials: Paint prices will vary widely based on the type and quality of paint you choose, and while it's tempting to go the cheaper route you should take the opportunity to invest in your home. Paint costs are also factored by coats, stains, and finishes.
Home size: The size of your space is key to estimating the costs of your project. You're looking at an average budget of roughly $3.50 per square foot, which includes paint, materials, and labor. The average 400-square-foot living room might cost about $1,400, while every room in a 2,300-square-foot home might total $8,000 or more.
Painting your home can be expensive, time-consuming, and frustrating. Thankfully you don't have to handle it alone—ProServ is your best option for local professional paint services. Schedule a call today at 781-579-6857 and we will fix you up with a free estimate. You deserve to be proud of every aspect of your home, which is why we want you to have the most beautiful space possible.
Need Help Choosing A Color?
As the saying goes, you never get a second chance to make a first impression. This is especially true when it comes to the exterior of your home. The paint color you choose can set the tone for your entire property and create a welcoming atmosphere for guests and visitors.
If you're in the market for a fresh new look for your home, our professional painting contractors and local painters are here to help. With years of experience and an eye for detail, we can guide you through the process of selecting the perfect color for your home's unique architecture and landscape.
Whether you're looking for a bold and bright hue that will make a statement, or a soft and subtle shade that will blend seamlessly with the natural surroundings, we have the skills and expertise to bring your vision to life. We'll take into account factors like the materials your home is made of, the style of your landscaping, and even the climate in your area to ensure that your new paint job lasts for years to come.
In addition to enhancing your home's curb appeal, a fresh coat of paint can also protect your property from the elements and prevent damage from occurring. So why wait? Welcome friends and family to your home with a new look that's sure to impress. Contact us today to schedule a consultation and get started on your painting project.
We Work Around Your Schedule
We understand that your time is valuable, and that's why we strive to work quickly and efficiently when it comes to painting the exterior of your home. Our team of professional painting contractors and house painters is dedicated to minimizing disruption to your daily routine, so you can go about your business with minimal interruption.
At the same time, we don't compromise on quality or attention to detail. Our team takes pride in their work and is committed to providing outstanding service, no matter how tight your timeframe may be. We'll work with you to find a schedule that works best for your needs, and we'll always keep you informed every step of the way.
And when the job is done, you can rest assured that we'll leave your property looking clean and tidy. We understand the importance of respecting your home and your space, and we take care to clean up after every appointment so you don't have to. So why wait? Give us a call today to discuss your project and find out how we can help. With our flexible scheduling, commitment to professionalism, and high standards of service, we're confident that we can exceed your expectations and deliver results that will leave you thrilled with your newly painted home.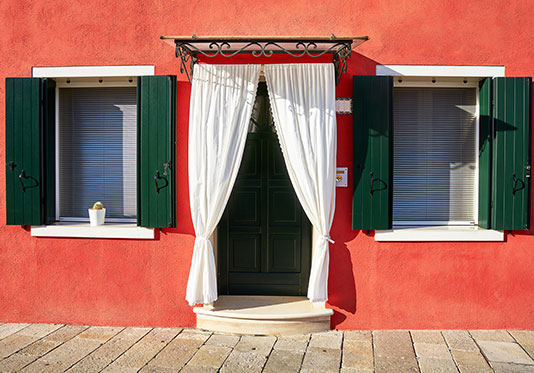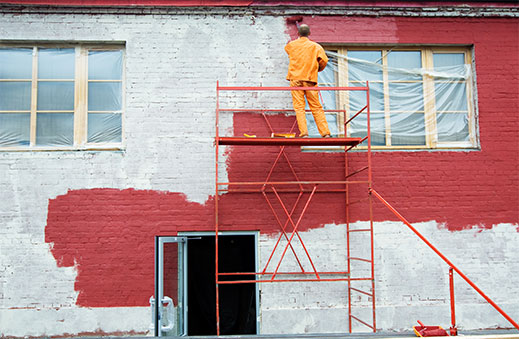 Using Top-Quality Paints For All Projects
We partner with only the top-of-the-line painting companies like Sherwin-Williams and Benjamin Moore. Whether you're wanting to give your vinyl siding or fence a facelift or update your house before selling, or just sprucing it up for yourself, our professionals can cover all the bases with trusted and reliable products that have been around since 1866 and 1883. That's over 150 years of perfecting painting solutions for customers all around the world!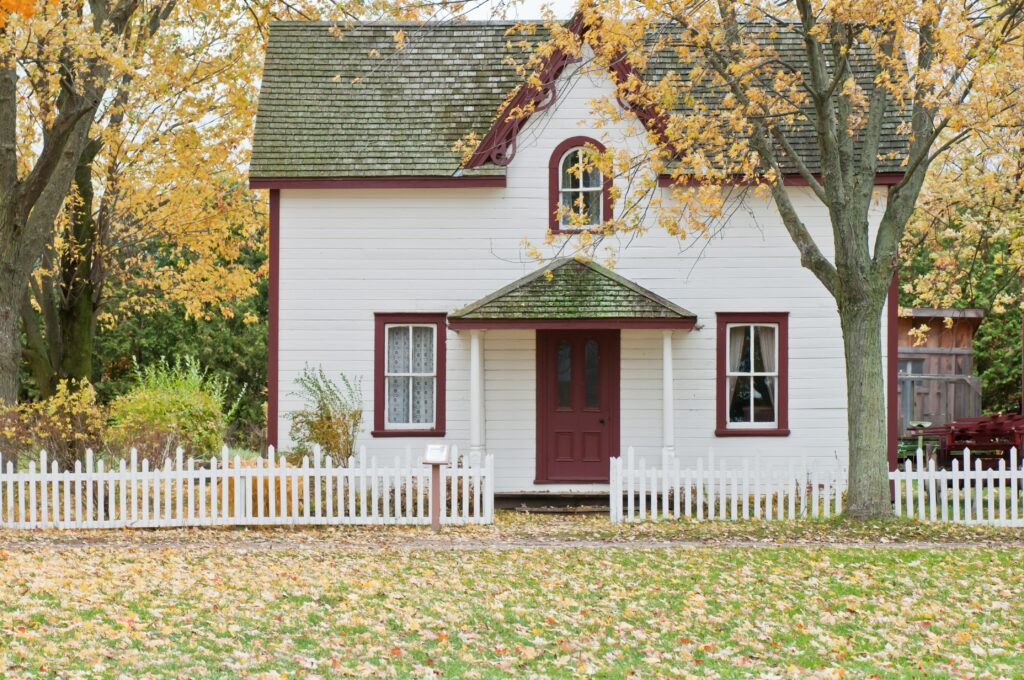 Five Reasons To Hire ProServ Painters
We tackle small or large-scale interior painting projects. We're a small team of highly-skilled exterior painters who create individualized painting plans for every customer. From helping you navigate through an endless supply of paint samples to finishing the project with ease, there are many reasons why you should choose ProServ as your number-one painting or restoration project choice in Southern Massachusetts, but here are the top five reasons:

No Hidden Costs
We're always on-time and manage the project respectfully from beginning to end.

Upfront Pricing
We come fully prepared with a set upfront cost right off the bat. No hidden costs, ever.

Color Consultation
Undecided on the paint job color? Our professionals will help you find exactly what you're looking for.

Flexible & Reliable
Have a specific schedule you'd like us to paint around? We're always more than happy to do so.

Consistent Communication
Want regular updates on the progress of the project? We excel in consistent communication.
Frequently Asked Questions
We do! ProServ ensures that all painters and contractors have Comprehensive Business Liability insurance and Workmen's Compensation, sometimes called "Workmen's Comp." Comprehensive Business Liability protects your property from any accidental damage that might occur during a painting job or visit. Workmen's Comp protects us and you from liability while any painter or contractor is working on your property. Workmen's Comp can be costly, but it's worth it.
Whether you want to repaint your home for a change of color and aesthetic or there's a need to completely redo a peeling job, we're here for you. Most people get their homes painted every 5-10 years, and sometimes sooner if it's stained. Depending on the environment your home might need a fresh paint job more often, as there are many factors that determine the lifespan of each job. We offer a 2-year warranty on all projects, meaning that if you're not completely satisfied we will take care of it. Whether you need a paint job on the inside or outside of your home, we have you covered.
Set time, dry time, recoats—painting can be a big project, and sometimes to look its best a wall needs more than once coat of paint. Different types of paint take longer to dry, such as oil-based, or latex paint. Several coats of paint are typically required to cover the wall beneath the paint, especially if there is a previous color. More complex jobs might require several coats.
Call Today To Receive A Free Quote
We paint solutions at a very fair price to our customers wanting to transform their space, but if you'd like to know what you'll owe before we proceed with our interior painting services, call us today to receive a free estimate. We're upfront about our prices and guarantee you'll never be surprised by unexpected hidden costs.