Finding the ideal paint color is not the secret to a successful business painting project; rather, the most important factors are the quality of the paint and the expertise of the commercial painting contractor and the people doing the work. A longer-lasting, easier-to-maintain, streak-free finish is offered by higher quality paint, which also needs fewer coats.
Additionally, they are available in "all-in-one" choices that include seal coats and primers for quicker and simpler commercial painting projects. Low-quality acrylic paints will need numerous coats and might not end up looking smooth or professional.
Keep reading to find details on which brands of paint are best for commercial painting, as well as general info on interior paint color and exterior paint colors and brands.
What You Need to Know About Commercial Paint Jobs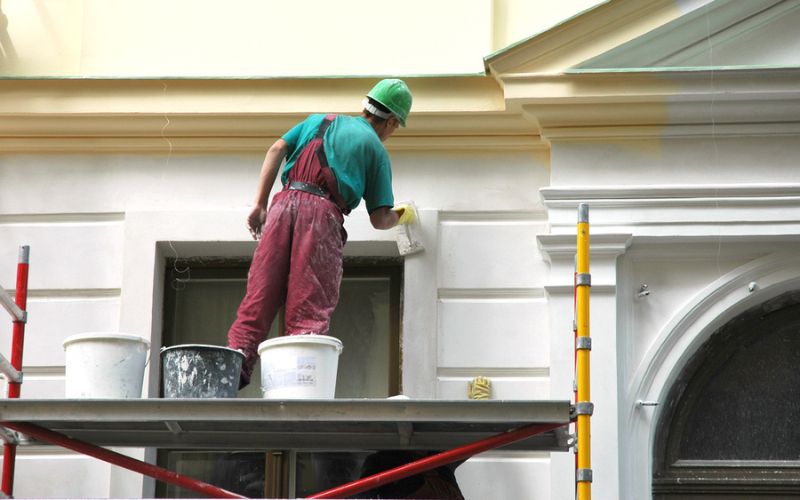 Commercial painting needs a highly developed background of education, practical experience, and talent. Professional painters for commercial properties also have access to the necessary materials, equipment, and technology to complete a top-notch paint work. In terms of comparing the professionalism of painting contractors for a commercial paint job, they also have better access to the higher quality materials and goods. A good brand of eco-friendly paint can improve indoor air quality.
For exterior paint jobs, be sure to choose the appropriate sheen or gloss degree. For items like siding, it is advised to use eggshell, flat, or satin finishes; in contrast, trim and doors should be painted with a gloss or semi-gloss finish to create the right amount of contrast. To make sure that your brand of paint can withstand all temperature patterns and bad weather, you will also take into account all the differences in area climate patterns.
The Surface and What Primers to Use
You must ascertain what is presently on the surface before deciding the right paint to use. The surface must be solid, sound, tidy, and dry if it is bare. For all types of exterior surfaces and interior surfaces, undercoats are generally recommended. This includes masonry primers, metal primers, and primers for wood surfaces.
Before choosing whether to use a primer or not, look for manufacturer suggestions on the labels of any masonry coatings that are self-priming.

Metal that has been galvanised presents unique challenges. Use an excellent acrylic primer rather than alkyd coatings on galvanised metal. Wash the metal with hot water and detergent, rinse, and wait until it is fully dry before painting.

A DTM (Direct To Metal) layer should be applied after treating rusted metal. Remove any loose corrosion initially, then wire brush and sand until shiny. Soon after, prime the surface with an excellent rust-inhibiting primer.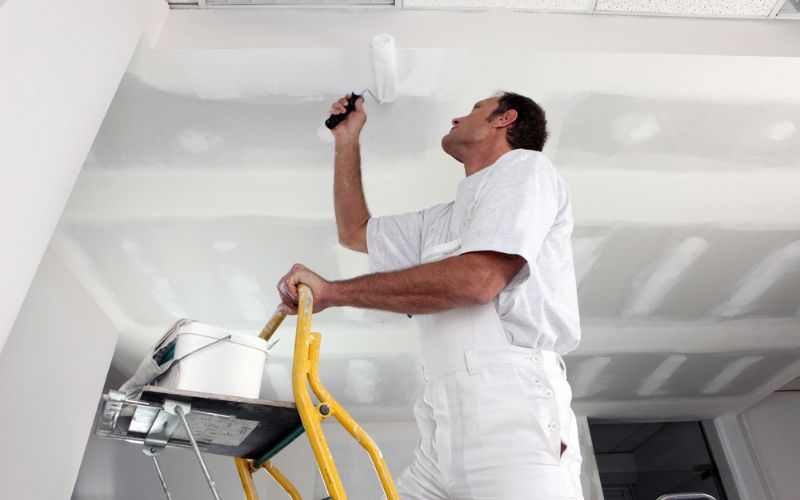 Recommended Brands for Commercial Painting
No matter what type of latex paint, alkyd paint, eco-friendly paint, or acrylic paint you will be using for your commercial building, there are a number of recognized brands that are considered to be high-quality and reliable for a variety of paint jobs.
Exterior Paint
Some of the best brands for exterior commercial quality paint include Sherwin-Williams Duration, Behr Premium Plus, and Benjamin Moore. All of these brands are relatively affordable, and have qualities that make them preferable for exterior painting for commercial buildings.
Sherwin-Williams Duration features one coat coverage and has low amounts of volatile organic compounds. They are also durable and long-lasting, which is perfect for a commercial building.

Behr Premium Plus is resistant to stains, mold, and mildew, and is also quick drying.

Benjamin Moore paints are low in Volatile organic compounds, self-priming, and resistant to mold and mildew.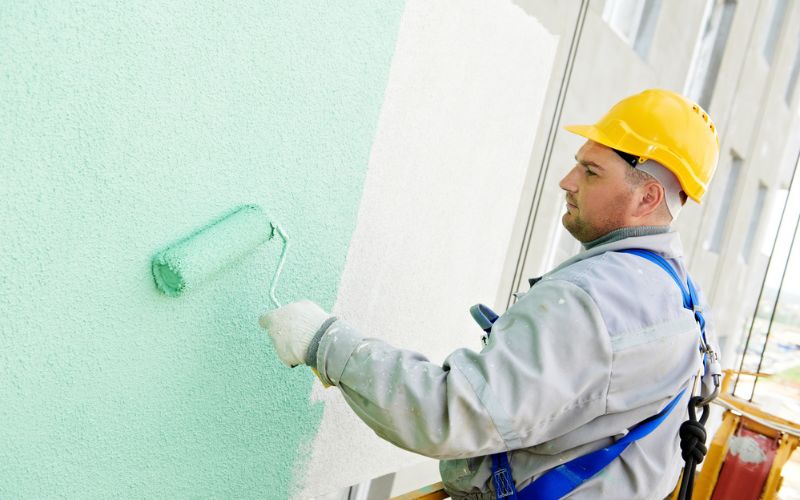 Interior Paint
For interior paints, the go-to brands for commercial applications include Benjamin Moore Aura, Sherwin-Williams Duration, and Behr Premium Plus Ultra.
Benjamin Moore Aura has reduced amounts of volatile organic compounds. It is also self-priming and mold/mildew resistant.

Sherwin-Williams Duration is great for one coat coverage and has a lifetime warranty.

Behr Premium Plus Ultra has a formula that is resistant to stains, mold, and mildew, and is easy to clean with low volatile organic compound levels.